Photographic Adventures, Adolphe Braun
Musée Unterlinden
Place Unterlinden
68000 COLMAR
+33(0)3 89 20 15 50

Opening time

Opening time
Wednesday – Monday 9 am–6 pm
Tuesday closed
Closed : 1.1., 1.5., 1.11., 25.12
24 & 31.12 9 am-4 pm
bool(false)
Photographic Adventures, Adolphe Braun
17.2. — 14.5.18
Braun, Clément & Cie, Le Cervin et le lac Riffelsee, 1893, tirage au charbon, 50,5 x 40,5 cm. Collection particulière / Droits réservés
From 17 February to 14 May 2018, the Musée Unterlinden in Colmar is presenting a retrospective devoted to the French photographer Adolphe Braun (1812-1877), one of the most influential photographers of the 19th century. The retrospective devised by the department of photography at Munich's Stadtmuseum offers a complete panorama of his work, illustrated by original prints, many of them on display for the first time.
As a photographer active from 1851 to 1877, Adolphe Braun (1812-1877) explored a variety of themes and formats, in an era marked by the advent of large print runs and a proliferation of technical processes.
The Maison Braun & Cie, which he founded in Alsace, was recognised in the second half of the 19th century as a pioneering photographic company and one of the most productive of its time. Drawing on a substantial catalogue, the firm sold its prints in Europe and North America, with subjects including floral still lifes, Alpine landscapes, cityscapes, panoramas, animal and architectural studies, and reproductions of famous artworks.
With the help of around twenty paintings and prints by the likes of Claude Monet, Gustave Courbet, Eugène Fromentin, Jean-Jacques Henner and Rosa Bonheur, the exhibition examines the close links between Braun's photography and the world of the figurative arts. The presentation of camera equipment from the leading French photographic collections highlights the importance of technical progress, as do the glass plate negatives from the Braun firm's historic archive, which is held by the Musée Unterlinden and the Haut-Rhin Department.
Curators of the exhibition
Musée Unterlinden: Raphaël Mariani, adjunct curator – Musée Unterlinden, responsible for the historic photographic collections, with the assistance of Casey Ackermann.
Münchner Stadtmuseum: Dr Ulrich Pohlmann, director of the Münchner Stadtmuseum's photographic collection, Paul Mellenthin, researcher attached to the University of Basel.
The exhibition will be accompanied by the publication of a catalogue in French and German versions.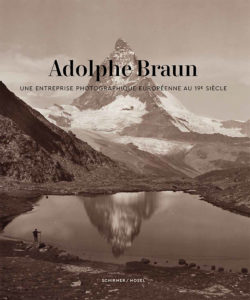 Adolphe Braun
Une entreprise photographique européenne au 19e siècle
Edited by Dr Ulrich Pohlmann and Paul Mellethin
With the collaboration of Franziska Kunze
Publisher : Schirmer / Mosel
260 pages (French version), 28 x 24.5 cm (hardcover)
Price : 35 €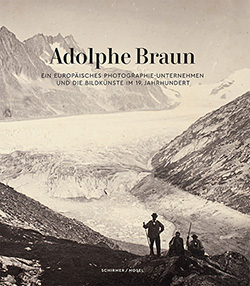 Adolphe Braun
Ein Europäisches Photographie-Unternehmen und die Bildkünste im 19. jahrhundert
Edited by Ulrich Pohlmann and Paul Mellenthin
With the collaboration of Franziska Kunze
Publisher : Schirmer/Mosel
360 pages (German version), 28 x 24.5 cm (hardcover)
Price : 66,50 €